How to write a job advert
One of the main reasons why so many job adverts fail to attract the right candidates is because they are written like job descriptions. A job description however, is an internal document, driven by the legal and functional requirements of the employer, usually part of your contract. Usually…boring to read.
A job advert on the other hand should present all the important arguments that make a company the employer of choice. It should attract candidates' attention, be easy and enjoyable to read and evoke emotions – this is what makes someone dream about this new position and actually apply. Here is a list of tips on how to write a job advert that will make your audience push the "apply now" button. 
Do you know about the acronym WIIFM?
Keep in mind the acronym WIIFM (what's in it for me?) – an approach that is well known in sales and marketing. You need to know your prospects interests, fears and motivations to make him or her act the way you want. If you can answer "what's in it for me?" for your potential candidates, you can be quite sure you will  inspire curiosity. 
Learn about your target groups
Categorise your target groups, because we can assure you, that specific motivators will be different for managers, specialists and those on the front line. What's interesting and motivating for a Software Developer is probably different for Accountants.. 
You can find out what's in it for them through a combination of anonymous surveys, focus groups, market research etc. But the easiest way to start with more than your gut feeling is to make 3-5 short interviews with someone working in a same or similar position you are trying to fill. Why she/he loves the job? What are the most interesting challenges? How rewarding is it? 
Why make a job advert into a landing page
If you know the most important arguments, you have to decide on how to present them to your audience. Our number one recommendation – a landing page. Landing pages are widely used in sales and marketing for generating leads and if built professionally they deliver results. 
Using a landing page as your job advert will allow you to express your arguments in a more detailed and emotional way. Information will be presented in a very structured way, in sections, supported by good design, which will ensure that it is easy and enjoyable to read.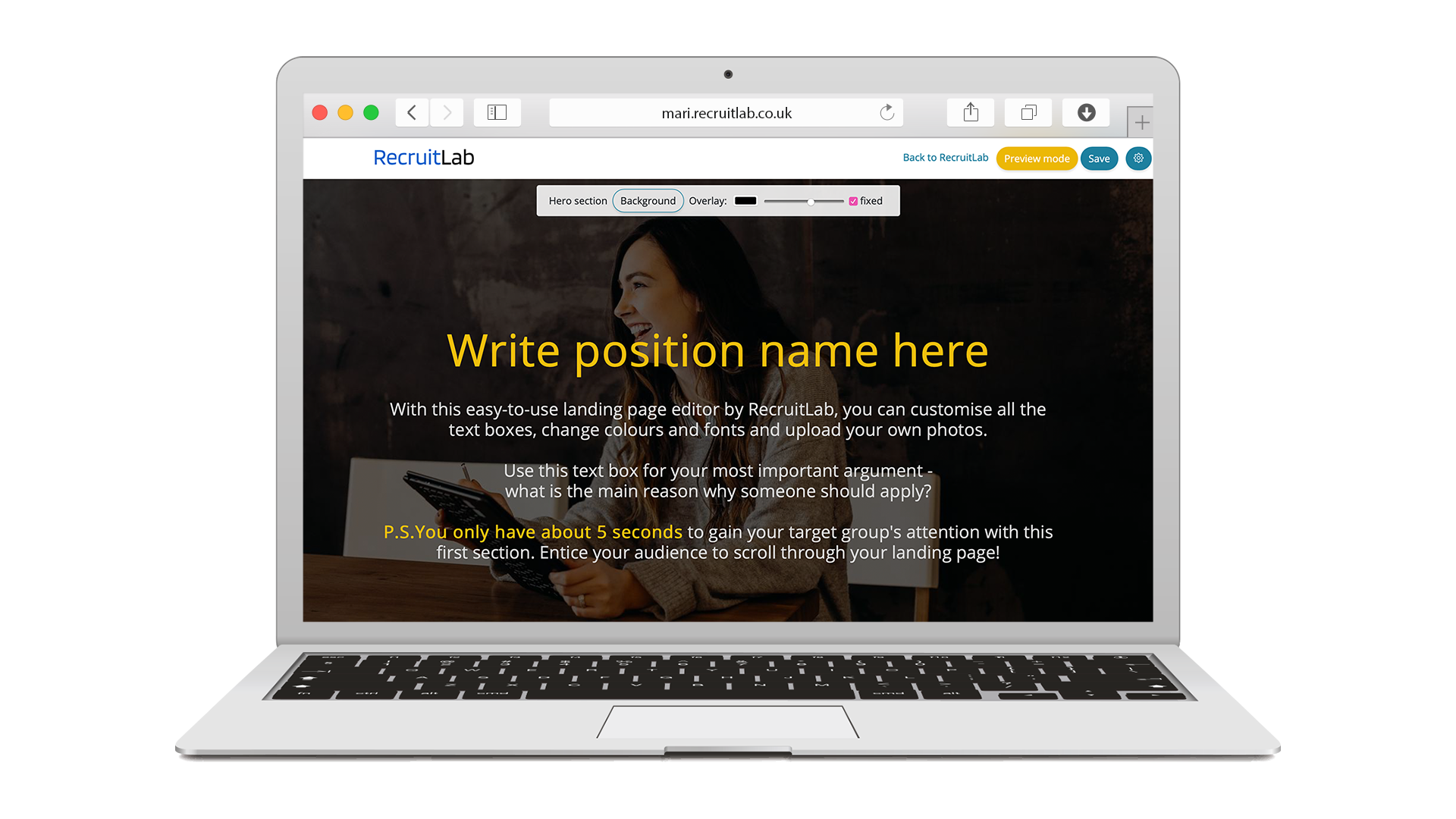 Attractive job adverts without the help of a designer or web developer
For example, landing page editor by RecruitLab has 7 customisable sections to attract your audience's attention and convince them to apply. You can customise all the text boxes, change colours and fonts, add your photos and custom application forms to make applying as easy as possible. Without the help of a designer or a web developer, you can build a landing page for your recruitment project in half an hour. 
Create brilliant job adverts
Free for 30 days. Cancel anytime
Create mobile-friendly job adverts and recruitment landing pages
Customise text, change colours, fonts and upload your own photos 
Share them on social media or link to your career page
After 30 days, monthly fee starting from 15 GBP  

You have about 5 seconds to gain attention
You can divide your landing page visitors into 2 groups: 
Fast decision-makers

Slow decision-makers
Fast decision-makers are considered to be more emotional, and slow decision-makers more rational. Fast decision-makers rely on your hero section and photos, headlines, and trust elements like quotes or other highlighted aspects on your landing page. On the contrary, slow decision-makers are readers. They don't stop at the headline; they read and look for additional information from your web page or social media channels. 
How candidates think and behave is different, but the first 5 seconds after landing on your job advert, are critical for both groups. You have to gain your target group's attention with the first section. Your headline and call-to-action need to be crystal clear and entice your audience to scroll through the landing page. 
Make a 5-second test with someone you trust – with just 5 seconds what will they remember, and what kind of impression do they get from your job advert? Although changing jobs sounds like something rational, there are a lot of emotional aspects involved and employers considered to be attractive have found the right buttons to push.
How to write a job advert that works
Addition of some crucial elements will make your job advert or recruitment landing page either succeed or not. 
Trust elements on job adverts
Some ideas for trust elements on a job ad include contact details with a photo of your future coworker, a quote from the manager, testimonials from coworkers, photos of your team events, information about your main clients, market share, certifications or awards etc. 
Photos and images on job adverts
Avoid stock photos and use your own. Show your office, meeting rooms, kitchen, modern work equipment, office dog or something else that your colleagues love. Present photos of your coworkers, not models or actors. In recruitment marketing, authenticity is more important than the quality of the photos. 
Job advert copy
Some say that on average people only read about 28% of the words on your web page (statisticbrain.com). Keep it short but informative (remember WIIFM!). Don't use corporate clichés. People are less likely to be interested in working for an employer that speaks too much 'corporatese'. Instead of writing "we offer you a competitive salary", describe your salary system more accurately.
Job advert design
The design should support your end goal: to make your audience apply. Design can work as your trust element or something that will leave a bad impression as an employer. RecruitLab's templates are designed to match your needs, so that creating a landing page doesn't require design skills from you. Change colours, fonts, add your photos according to your visual identity as an employer. 
So, write a job advert, not a job description. If you post a job description and expect it to behave like a job advert, you won't get the results you are hoping for. Creating attractive and modern job adverts that will distinguish you from your competitors and support your employer brand, is not  a hassle anymore. Use landing page editor by RecruitLab and see it for yourself.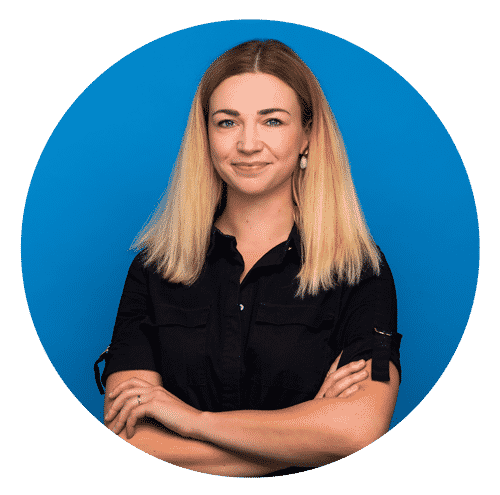 Sign up and you won't miss new hiring tips and hacks!
Only interesting hiring advice, case-studies, tutorials, webinars and product updates.