Asynchronous video interviews in RecruitLab
How to conduct asynchronous video interviews in RecruitLab
Conducting asynchronous video interviews in RecruitLab is as easy as emailing. You just need to take these three simple steps:
Select the candidates you want to send your questions. You can select as many as you like. Click on "Schedule interviews" and "Send video interview".

       2. Choose the type of your questions, and you can write your question or record it as a video. Set time limits for answering and set the number of attempts you allow your candidates to make per one question.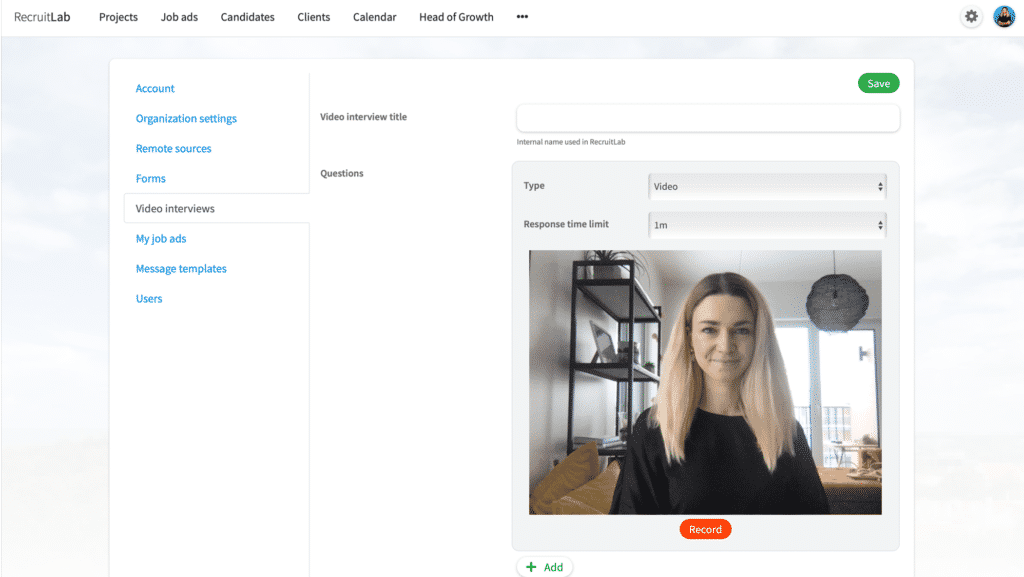 3. Send your questions to candidates without worrying about adding extra instructions or putting your candidates in a difficult situation. Because the whole process is made simple and convenient for candidates, it just takes a smartphone or a computer to push the record button for answering. 
How to improve the candidate experience and the response rate
Based on RecruitLab's statistics, asynchronous video interviews with pre-recorded video questions have a higher response rate (on average 96%) than interviews with text-based questions (on average 90%). Hence, we suggest taking the time to record your questions and make the process more candidate-friendly. It's a great way to introduce the hiring manager or future colleagues to the candidates. This will make your candidates more engaged and interested in your company from the initial stages.
How to make your life easier with automation
You can save your asynchronous video interviews as templates

You can set automatic triggers and actions to your recruitment stages. 

     3. You can send the video interview questions automatically (action), for instance, after you have received an application (trigger) or after your candidate has been in one stage for X days (trigger). 
     4. Or, you can use the "Move to stage" action. All candidates who have sent their video interview answers back (trigger) will be automatically moved to the next stage (action).