A step-by-step guide for the free trial period
During your free trial period, you can use all the features of RecruitLab's Professional. We have listed the most popular features and tools among our customers to help you settle in faster.
Trusted by employers and recruitment agencies
Trusted by employers and recruitment agencies
Our customers save on average 50% of their time on recruitment because...
#1 applicant and recruitment project management is made easy with RecruitLab.
You don't need extra training to get started. RecruitLab is easy to use and affordable for every recruiter. Just log in, and RecruitLab will assist you during the recruitment and hiring cycle. 
#2 recruitment is teamwork, and RecruitLab makes it happen.
RecruitLab helps you engage hiring managers, and we all know how crucial their participation in recruitment and hiring processes is. You can easily invite managers or a whole team if you like and give either full or limited access to your projects. 
#3 RecruitLab has all the tools for a modern recruiter.
Recruitment marketing and improving the candidate experience are part of a modern recruiter's every day. RecruitLab has all the tools to attract, manage and nurture applicants. Easy tools and automated actions help you succeed in your job while enjoying recruitment again.
Here's an overview of the most popular features and tools in RecruitLab.
They have been developed to save your time on routine actions and speed up your recruitment and hiring process, making no candidate experience trade-offs.
There are thousands of job ads, but most look the same. They even have the same phrases on them, and the same photos from the image libraries in the worst-case scenario. 75% of the population are so-called passive candidates not actively seeking out a new job. To gain their attention, you need to stand out from competitive employers and show why someone should consider your company as their next employer. 
Job Advert tool helps you create brilliant job adverts without the help of a designer and increase your candidates' quality. 
Here's a short review of the tool from Chris Russell, RechTech Media
Just choose the sections you like, add text, upload photos, choose the font, download the job ad, and you are ready to recruit. 
2. Recruitment Landing Page tool
If you mainly use social media for recruitment, this tool helps you create attractive and mobile-friendly recruitment landing pages without a web developer's help. 
Using a landing page as your job advert will allow you to express your arguments in a more detailed and emotional way. Information will be presented in a structured way, in sections, supported by good design, which will ensure that it is easy and enjoyable to read and apply. 
You can create mobile-friendly application forms and link them to your recruitment landing pages, home page, or career page. Customise all the fields, choose colour and font.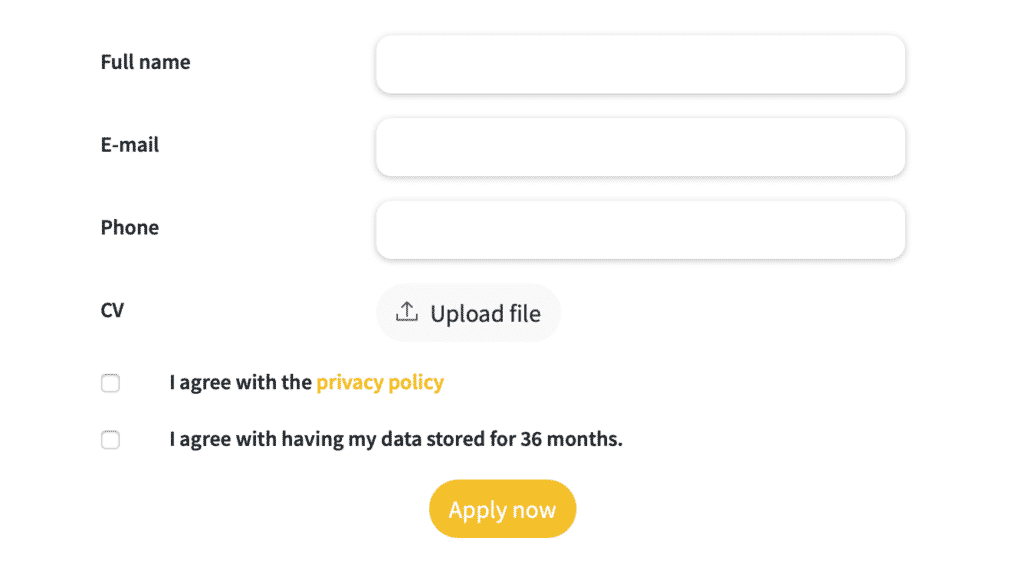 There isn't one perfect application form, you have to remember your target audience. Play with fields to increase or decrease the number of applicants. According to studies, adding one extra field to form, results in a 26% lower conversion rate. 
This feature helps you to schedule interviews with no back-and-forth emails. Share time slots with the candidate (or candidates) you would like to meet. They receive an email, click on the time slot that is most suitable for them, and you both will receive an email with the calendar event.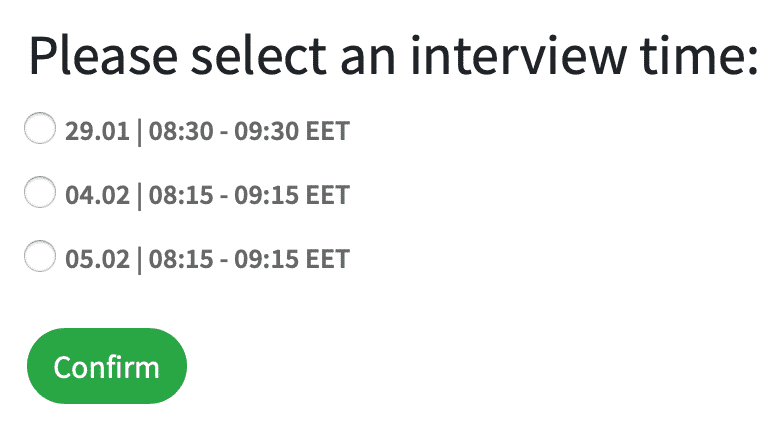 This feature saves on average 80% of your time on interview scheduling and improves candidate experience and recruiter experience.
5. Automated personal emails
Lack of follow up and response is the most common cause of negative candidate experience. 70% of the candidates claim they have received no feedback after submitting their resume. With RecruitLab, you can be different from competitive employers and save your time with automated personal messages to keep your candidates informed and engaged. 

Keep updated as to whether your candidates have received your emails, opened them, and clicked on the information you sent them or not. This feature helps you build up a communication flow according to your candidate's activity. 

7. Recruitment metrics and statistics
The most common KPIs that recruiters monitor are time-to-hire and the number of applicants. You will find these two and other metrics from your dashboard to give you an overview of your recruitment projects. You can export all the data regarding your recruitment projects to analyze it in more detail.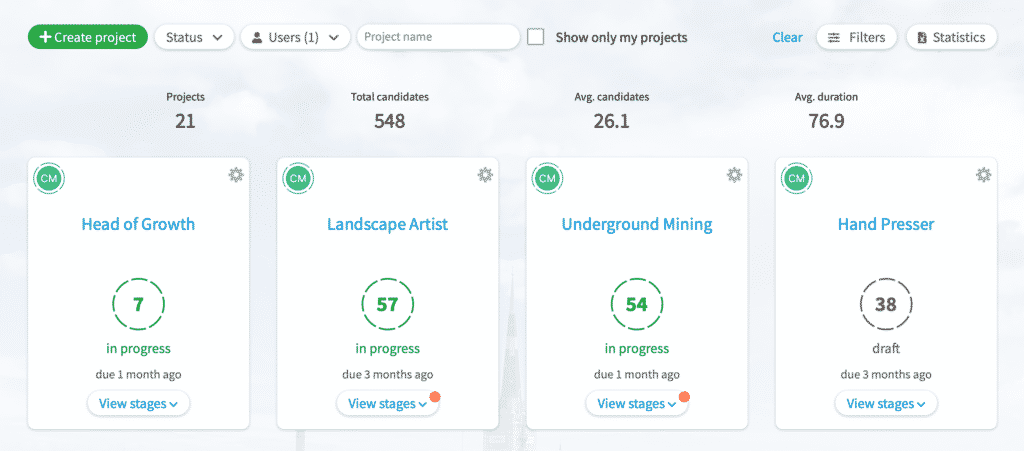 8. Automated triggers & actions
Automated actions give you the ability to assign triggers to recruitment project stages. By this, you can automate repetitive tasks and save time while offering a better candidate experience.
For example, imagine someone applied via the career page. Instead of manually composing an email and sending it to your applicant, you can automate it. For example, an application via the career page could trigger the action that all the applicants from the career page will automatically receive video interview questions. Those who send their video answers in time will be automatically moved to the next stage, and you and your colleagues connected to this project will receive a notification about it. Those applicants who won't answer your video interview questions in time will be automatically moved to the stage "rejected" and receive a rejection email.
Has recruitment ever been so easy? 🙂
You will see all your applicants in a pipeline view, divided between stages that you have set up. It's easy to drag and drop applicants between different project stages. You can rearrange or rename recruitment project stages in seconds.
There are always applicants who apply via email. But it's not a headache for recruiters anymore, because adding these new applicants to your recruitment project is easy. Just open your Outlook and drag the candidate's email to your pipeline view, and he/she will be automatically added to your recruitment project. 
10. Video Interview tool (available in RecruitLab Professional paid plan)
With video interview tool, you can conduct one-way video interviews (known as asynchronous video interviews) to save time on preselection. 
Prepare 2-3 questions to your applicants in text format or record them as a video. Send these questions to as many applicants as you like. You can set a time limit for each answer.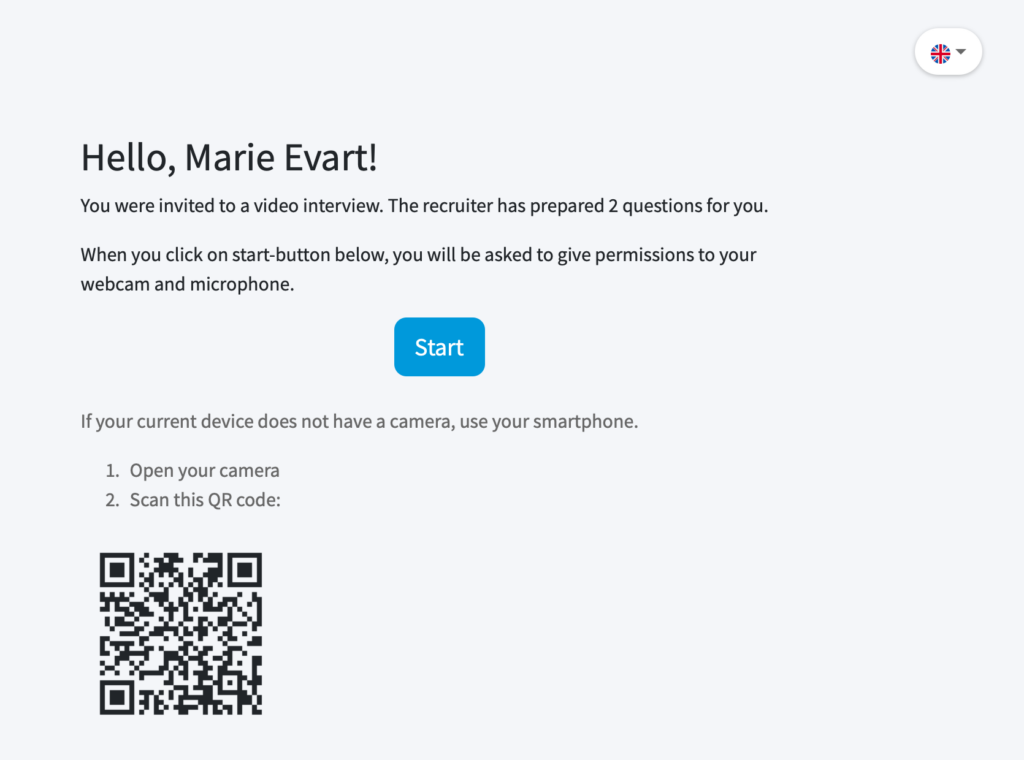 Having this additional information from your applicants makes preselection easier and more accurate. Also, you will save time because, probably to date, you have conducted phone interviews to gather that additional information. Instead of 20 phone calls, you now only have to write or record the questions once and review the answers from applicants at the most suitable time for you. 
11. Text messages (available in RecruitLab Professional paid plan)
Text messages will boost your recruitment process. Gartner's research shows that candidates open and read only about 20 percent of the emails that recruiters send via LinkedIn, while the texting platforms anecdotally report response rates of 60 to 70 percent. About 90% of all text messages are read within 3 minutes of their delivery, so recruiters who use text messages get faster responses from candidates.
What happens after the 30-day free trial period?
After the free trial period, you can integrate RecruitLab with more than 300 job boards and HRIS-s. Your account manager will assist you.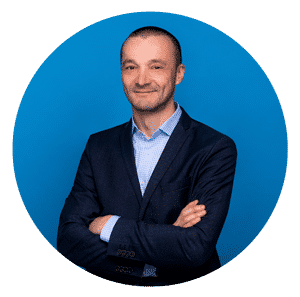 In case you have any questions,
don't hesitate to contact me.
Sign up and you won't miss new hiring tips and hacks!
Only interesting hiring advice, case-studies, tutorials, webinars and product updates.