4+1 video interviewing tools you need in 2021
There has been a substantial shift from traditional to virtual recruiting, which has made integrating videos to recruiting essential, or one might even say critical. 
Video interviewing increased by 129% in 2020  and many recruiters, hiring managers, and candidates consider videos in the recruitment process as the new standard. 
With the competition heating up for top talent, recruiters who put video to work for them will gain better results. 
Here's a detailed guide on why and how you should take advantage of these video interviewing tools:
How to choose the video interviewing tools?
81% of talent professionals agree that virtual recruiting will continue post-COVID. Many companies now say that they won't go back to traditional recruitment because they've seen all that virtual recruitment offers. It has saved them an enormous amount of time and energy and enabled them to recruit regardless of location. 
But this also means that recruiters and hiring managers are increasingly dependable on the tools they are using. 
With video interviewing and deciding which tools to use, it's important to consider the candidate experience and the experience of recruiters and hiring managers. With the right video interviewing tool, you will save time on scheduling and make the interviewing process more convenient for both sides. 
Two questions you should be asking: 

How easy is scheduling and conducting video interviews for recruiters and hiring managers?

Is the tool easy to use, and will it improve the candidate experience?

 
Save time on scheduling live video interviews
One of the most time-consuming yet low-value tasks in recruitment process management is the whole process of scheduling interviews. Virtual recruiting added a new layer to it – generating and sharing access links. And making sure that the hiring manager and the right candidate will eventually end up in the right virtual meeting. 
So, make sure that your video interviewing tool makes scheduling interviews easy for you and your colleagues. 
For example, RecruitLab offers a combination of the Interview Scheduler and Live Video Interview tools.  Based on the customers' feedback, it has helped them save on average 80% of their time on interview scheduling. This means no back and forth emails, no manual bookings to calendars, no need to manually share access links, and worry whether you shared the right one or not.
Make participating in video interviews easy for candidates
You have probably read many suggestions about how providing detailed explanations for candidates on how to use video interview technology will improve the candidate experience. But instead, it will be better to use such video interview tools that are easy-to-use and need no extra manual or instalments. 
For example, these Live Video Interview and Instant Call tools allow candidates to participate in the video call regardless of the device or browser they are using, making it convenient and stress-free for them. Candidates need not instal anything but only click on the link they will automatically receive.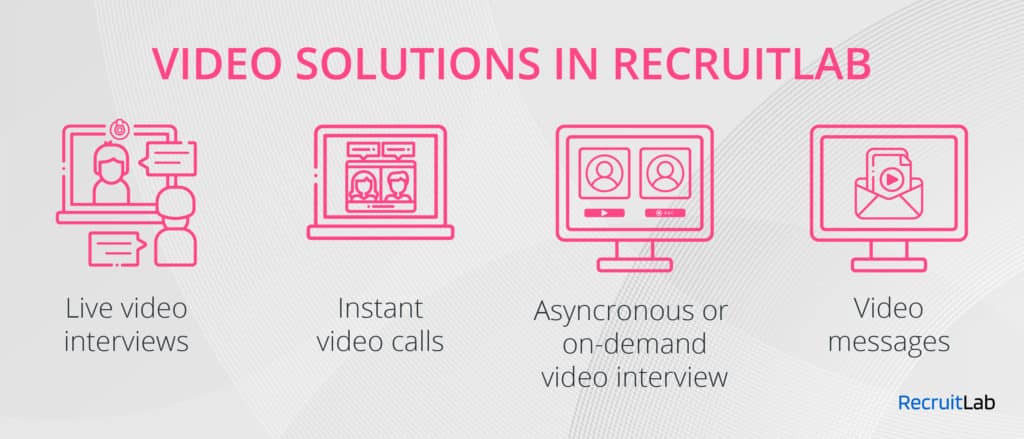 Make the preselection process more precise with asynchronous video interviews
Asynchronous video interviews, also known as on-demand, pre-recorded, or one-way video interviews, speed up your recruitment process. You don't have to conduct endless phone interviews. 
Instead, you pre-record or write your questions once, send them out automatically and review the answers from candidates at the time suitable for you. Besides, it is easy to share video answers with hiring managers or other colleagues participating in the hiring decision-making process.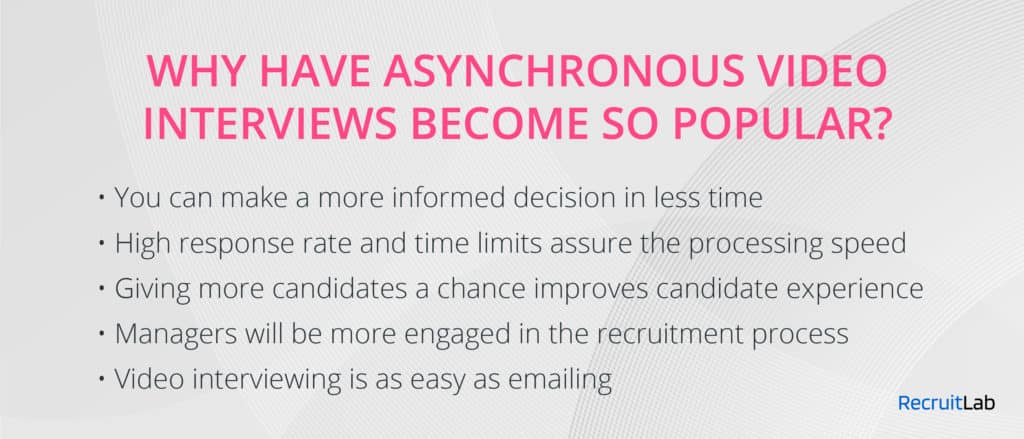 The preselection of candidates will be more precise, as you will not only rely on application forms and CVs but give more candidates the chance to introduce themselves. 
Recruiters point out that asynchronous video interviews have helped them to motivate hiring managers to be more involved already at the preliminary stages of the recruitment process. This has shortened the entire process, improved candidate experience and the probability of hiring the most suitable candidate.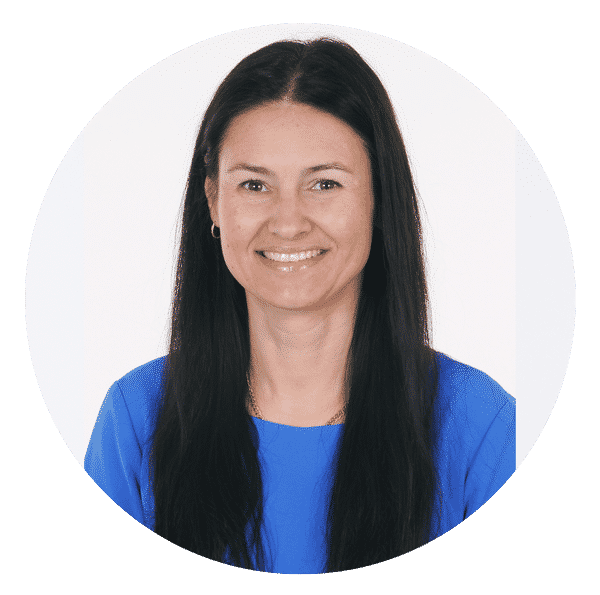 Gerli Mets
Department Manager
"I have used the asynchronous video interview tool by RecruitLab in two campaigns already. It is a truly exciting process! It's so exciting that I started to reply to every candidate myself, although this is usually what our HR department does. Most of the candidates have gotten back to me and expressed their gratitude towards a pleasant candidate experience and feedback. I'm definitely a huge fan of this tool "
How to improve candidate experience with asynchronous video interviews?
Modern asynchronous video interviewing tools allow you to choose between the two questions types: text-based or video questions. 
We suggest taking the time to record your questions and make the process more candidate-friendly. It's a wonderful way to introduce the hiring manager or future colleagues to the candidates. This will make your candidates more engaged and interested in your company from the early stages. 
Based on RecruitLab's statistics, asynchronous video interviews with pre-recorded video questions have a higher response rate (on average 96%) than interviews with text-based questions (on average 90%).
Video messages add personalisation to your candidate experience
Video messages can be used at any point in the recruitment process, starting from sourcing to presenting a job offer. For example, adding a video to your email increases the click-through-rate by 200-300% and it has even been stated that a single minute of video content is the equivalent of 1.8 million words.
90% of customers report that product videos help them make purchasing decisions and this is also the case in recruiting, where the customer is your candidate, and the product you are selling is the open position.
Send video messages to candidates when sourcing a pipeline and need to stand out from other recruiters to gain your audience's attention.
Encourage candidates to move forward in your recruitment process with videos from hiring managers of future team members. It's a great way to make your candidates feel that they already know their future colleagues.
Or make the final offer on video to show your genuine interest. No matter how you will use them, video messages bring more human interaction to the process and make it feel more personal.
A tip for you to save time: Make it personal yet scalable. Avoid naming dates, weekdays and names in your video message to automate the communication flow.