5 steps for creating brilliant job adverts (with examples)
In this post, I will guide you through 5 steps to help you write and design a job advert that you could be proud of, which will attract suitable candidates. 
Why do so many job adverts fail?
The number one reason why so many job adverts fail is that they are written as job descriptions. They are neither visually attractive nor interesting to read. There are thousands of job adverts, but most look the same. They even have the same phrases on them and the same photos from the image libraries in the worst-case scenario. As they are not grasping peoples attention and evoking any emotions, they are like webpages starting from google's second page. There's only a teeny-tiny chance they will get klicks and submissions.
These boring, unattractive job adverts will make your potential candidates look like this:
But instead, we need a reaction like this:
Our candidates should be excited to read about the open position, excited about the challenge, feeling happy that they noticed the ad at the right time and that they can apply. It should make them act right away because there's always a chance that someone is quicker, better, more experienced etc.  
What information you need before creating a job advert
Before heading to the five most important steps for creating a job advert, let's have a look – do you have the input to get started? You need to answer these questions. 
Who are you looking for? You need a description of the perfect candidate.
Why and for what? Are you recruiting because someone left the company or is it a new position? You need a job description. 
What makes your employer the employer of choice? You have to know the arguments which make your employer special and attractive to work for. 
Create brilliant job adverts
No designer or web developer needed.
You can do it yourself!
How to create a brilliant job advert - 5 steps with free job ad design tool for recruiters
#1 Choose the recruitment channels first
How to structure, write and design a job advert depends a lot on the channels you will be using for publishing it. 
So decide about the channels first. Choose the most relevant recruitment channels based on the candidates you are looking for. If you are using several channels for the same opening, you need to find the time to create also different job adverts. Each channel requires a different approach on the format (image, video, landing page), information and the call-to-action. 
Some channels to choose from:
Social media (Facebook, Instagram, LinkedIn etc)

Company's career page

Online job boards

Online news portals

Newsletter

University mailing lists etc.
#2 Decide about the job advert structure
By job advert structure, I mean in which order and how you present the information to potential candidates on the job advert. 
For example job ads in social media are usually only short teasers to attract candidate's attention and cover the information about:
The job title

The most interesting argument about the job or the employer

Call-to-action: click and read more!
Social media job ads should make your potential candidates feel excited and click to read more.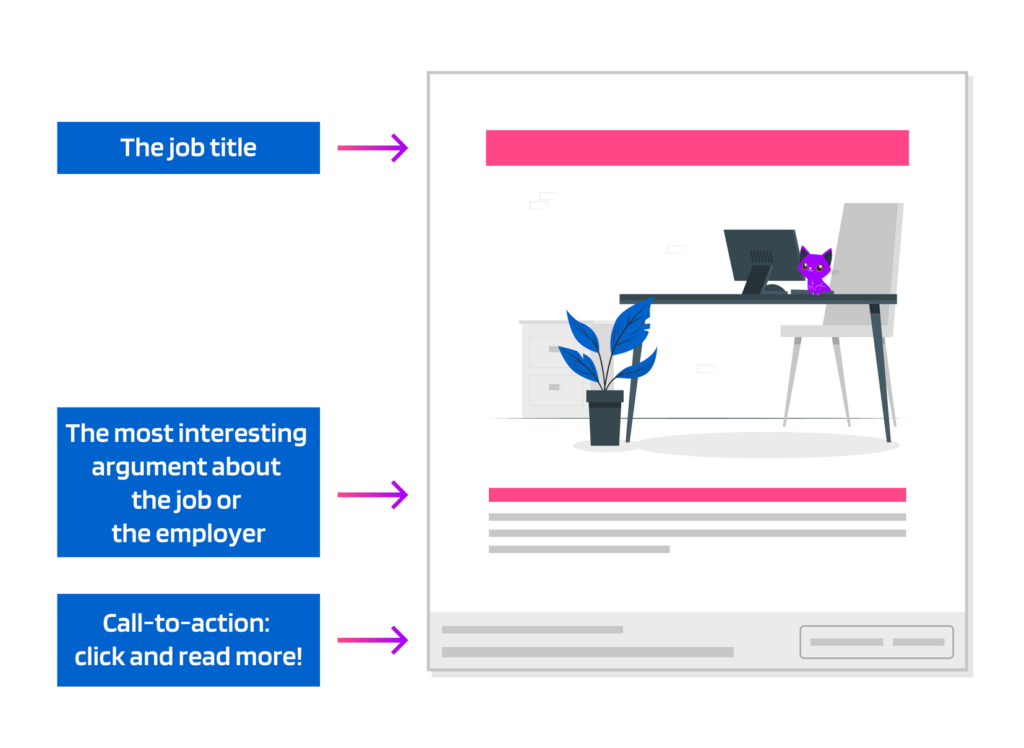 But the job advert on the career page or a recruitment landing page should present all the vital information to make someone apply:
Job title

Information about the employer

Arguments for applying and trust elements

Description of the perfect candidate

Information about the job

Job location

Applying instructions

Call-to-action: apply now!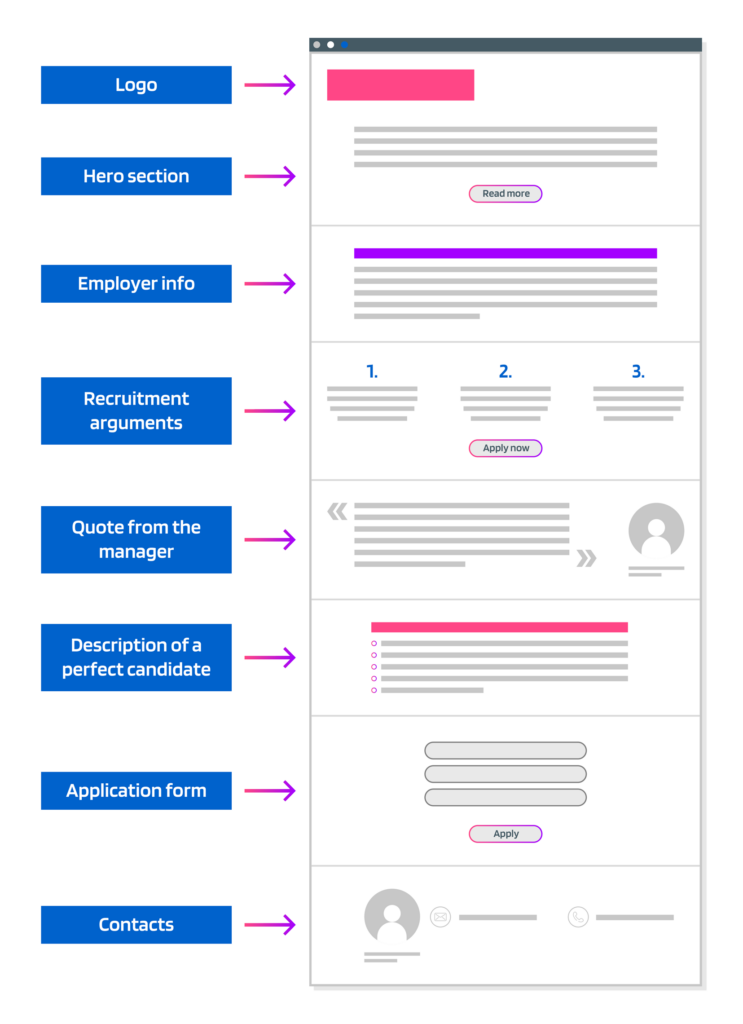 #3 Write catchy job advert copy
Don't use corporate clichés. People are less likely to be interested in working for an employer that speaks too much 'corporatese'. The copy is one of the most important things you can use to stand out from your competitors. Do not underestimate it!
Instead of writing 'we offer you a competitive salary', describe your salary system more accurately. Don't be too official and vague. You are writing to someone you would like as your team member.
Here are just some examples you should try to avoid in the "what we offer you" section: 
Competitive salary

Modern office

A great opportunity in a fast-growing company

Opportunity to learn and grow

The fast-paced environment

Amazing, fun company culture

Sociable and friendly team
Describe your employer in your own words and give examples. Involve your colleagues in this process. Ask why they love to work for your employer? What do  they enjoy? How would they describe the company as an employer? How would they describe the "Amazing and fun company culture" in more detail and with examples from day-to-day work life?
I have written more about what to remember while writing a job advert here. 
#4 Design your job advert
Job ad copy is crucially important. So is the visual appearance. Visually attractive job adverts convert way more candidates than those that don't stand out and are boring. Some research results indicate you will lose every second candidate if they consider your ad to be visually unattractive. 
Job advert design has been a constant struggle for recruiters for years. Involving designers is time-consuming and costly. Hence, recruiters are forced to deal with the job ad design themselves.  Lack of time and no experience with design programs like Adobe or InDesign has caused the paradox – every recruiter knows the importance of the job advert design, but most of the job adverts are still visually unattractive.
Fortunately, there are some tools to help recruiters. 
For example, like this free Job Advert Tool. You just must choose the sections you like, add text, upload photos, choose the font, download the job ad, and you are ready to recruit. 
Or this Recruitment Landing Page tool (take a look at the template) helps recruiters create mobile-friendly and attractive recruitment landing pages without the help of a designer or web developer. 
#5 Choose job advert images wisely
If it comes to job adverts, then I suggest avoiding stock photos and use your ow – present photos of your coworkers, not models or actors. You need to ask for their permission and explain how you will use these photos, which may seem time-consuming at first. But I promise, the reputation you are creating as an employer if there are real employees who suggest applying is way stronger and more attractive.
A photo of the manager and his or her quote is one of the strongest trust elements on the job advert.
Show your office, meeting rooms, kitchen, modern work equipment, office dog or something else that your colleagues love or are proud of.
You shouldn't worry about the quality of the photos too much. In recruitment marketing, authenticity and showing real emotions is more important.
So now that you know all the important hacks – create a job advert here or a recruitment landing page here.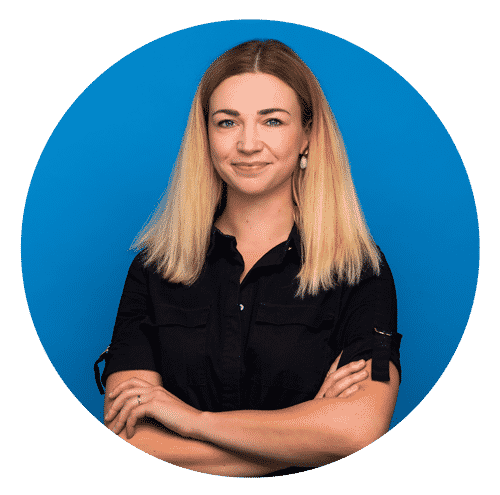 Sign up and you won't miss new hiring tips and hacks!
Only interesting hiring advice, case-studies, tutorials, webinars and product updates.